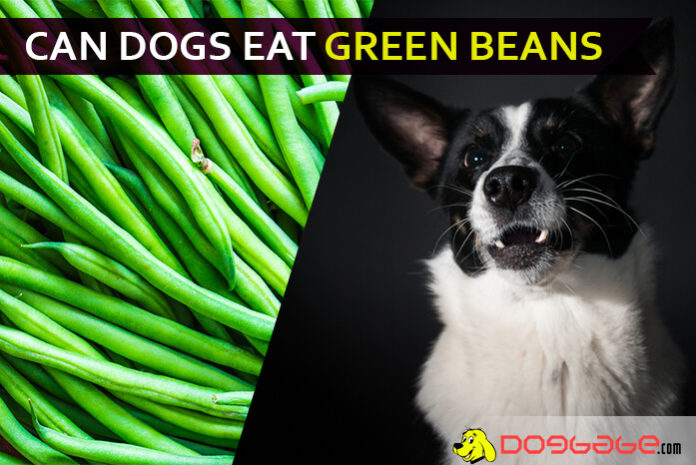 Greetings, friends! Nowadays, the dog parents have great care about his health and nutrition. At recent times, the dog parents also have fretted about the dog's physic.
They need their pet baby charming, shiny and fit. These things are taken care by pet parents to make their dog socially adorable.
To make your dog healthy and fit, try fibrousveggies. While we enter into this idea, your chief suspect is "can my dogs eat green beans?" Yes, of course, you are right friends!
He can be served with green beans for weight loss sessions. Let's have a conversation about our cuties health and up-gradations by feeding the green beans!
Read more: Can dogs eat an avocado?
Dogs & Green Beans Infographics

Can dogs eat green beans safely?
The utmost care before serving any feed to our dog is his safety. Dog's health should be safer enough while we introduce some new rotational foods to his diet. For the security reasons, we must consult an expert in this field.
As our dog's are one of the family members, we must take great care of their health. After researching for a span, I have found that our dog's can readily accept green beans.
How can we serve green beans in their diet?
Green beans must be steamed to serve the dogs. Raw green beans can be good for human health, but for our dog's, the raw veggies can cause diarrhea and stomach upsets.
So your query of "Can dogs eat green beans raw?", vanishes friends! For easy digestion, make the beans uniformly shaped. When you buy the green beans for your dog, there are some important instructions. Let's take a look at the instructions.
Find more: Can dogs eat raw blueberries?
Attention! While purchasing green beans for doggies!
While purchasing green beans for our dog's, we must look at the labels to ensure safer health to them. Look at these notifications in labels friends!
Avoid canned, baked beans as they may contain added salt and sodium which can raise the level of blood pressure in dog's.
Avoid frozen beans which are fried; they may include oil, butter, cheese, onion, garlic as ingredients. The fat content in the oil, butter, cheese may inflame the pancreas of a dog, whereas the onion and garlic in the stir fries are toxic to dog's liver and kidneys.
Purchase the dry beans or natural frozen beans which are the better option for dog's diet.
Learn more: Can dogs eat apples safely?
Preparations of tasty green beans for doggies diet:
We have to provide a delicious diet for dog's. I have noticed many pet parents, even if they eat very normal foods they would feed their dog the tasty and costly foods. To make a cheap and healthy diet for dog's, just try these green bean recipes.
Soak the green beans for the whole night in cold water.
After rinsing the water, steaming the green beans must be done.
Then slice the beans and mix it with his regular diet. Provide the routine diet prescribed for his weight and then add a hand full of green beans and mix with the regular diet.
Still, if you need to make the green beans tasty, roast them without any oil, butter, cheese, onion and garlic as ingredients.
To make a perfect diet with green beans, take a hand of steamed beans. Prepare cooked chicken and brown rice. Then mix the steamed beans with the diet and serve him.
Warning: Serve them cool green beans and diet.
Too much of good thing is poisonous:
We all know that too much of anything is good for nothing. This fact is true in every diet of dogs. As a dog parents, the feeding time would be your bonding time. If your veterinarian asks you to lower the amount of his diet, you would be worried.
Instead, try the prescribed limits and a hand of green beans. This makes the feeding time comfortable and healthy.
If you serve him a bowl full of green beans, he may end with diarrhea and gastric troubles. The excessive stool production is a negative sign for dog's health.
Now we must know the benefits of serving green beans to his diet. Without any scientific reasons, we must not adhere to any diets.Just take a look friends!
Scientific facts for adding green beans to doggies diet:
Green beans possess essential nutrients, vitamins, minerals and dietary fiber. Green beans possess Vitamin A, B, C, K and magnesium in sufficient amount.
Also, green beans are low-calorie diets with high fiber content. Specifically, the fiber is dietary fiber which can help the dog to lose his body weight.
Vitamin A

 is fat-soluble and is good for eyesight and heart functioning of dog.

Vitamin B6

 protects the immune system of dog's.

Vitamin C

 increases the immunity and regulates the blood pressure.

Vitamin K

 helps blood clotting which is helpful for recovery of injuries and surgical marks.

Magnesium

 carries other essential elements  like calcium, phosphorous and potassium to the body. For other enzyme activities also as a carrier element, magnesium is required for dog's.
Dietary fiber reduces his weight and regulates the insulin resistance. This prevents dog's from diabetic issues.
To gain optimistic results:
Glance the dog after serving green beans for the first time. If he shows any adverse reactions like vomiting, diarrhea and stomach upsets, you would have fed green beans in excess to the dog.
Hence in the next feed, lower the levels of green beans in the feed. If he denies the green beans, mix somehow or the other way to his diet. Probably, your dog will not realize the mixing of green beans in his diet. Remove the leaves of green beans before serving the dogs.
This means your query of "Can dogs eat green bean leaves?" fetches the negative results friends!
I will trim the whole article into a list, for you easy reference friends!
Purchase a plain frozen or dry beans.
Steam the green beans and then roast it without any oil, butter, onion and garlic.
If your dog needs the diet delicious, then mix with brown rice and 

cooked

chicken

.
Mix only a hand of green beans in any of the routine diets. Be within the prescribed limits.
Once in a day serve with green beans in his diet.
Thanks for the conversation about our doggies! Would be happy if you leave the reviews of conversation in the comments page friends!